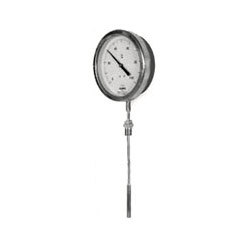 Mercury In Steel Thermometer
Product Description
We put forth for the clients Mercury in Steel Thermometer, which is available in Rigid stem and distance (Capillary) types. The capillary is made high-grade material such as flexible PVC, copper, PVC on copper, solid drawn SS, SS armored and PVC on SS. Besides, we offer accessories along with the thermometer such as anivibration spring, single & double electric contact and max reading pointers. Acknowledged for precise measurement and exceptional formidable attributes, it is highly demanded in the market.

Types

Rigid Stem & Distance (Capillary).

Dial Size

100, 150 & 250 mm.

Accuracy

± 1% of range span, with Ambient Compensation.

Bulb Stem & Connection

Mild Steel or SS 316 Material.

Bourdon

Alloy Steel Or Stainless Steel.

Case & Bezel

Cast aluminum stove enamelled black finish case with screwed inner bezel of ABS plastic / Stainless Steel case with bayonet lock type bezel. Weather Proof to IP-66

Bulb Dia

8/10 / 12 mm (standard) OR as Required

Stem Dia

As per bulb dia. selected

Capillary

Flexible PVC, Copper, PVC on Copper, Solid Drawn SS, SS Armored, PVC on SS , length as per customers requirement (max. up to 15 meters). Std. 3 Meters

Immersion Length

As Per Requirement , Adjustable Throughout capillary / Stem can be provided

Connection

1/2", 3/4" BSP (M), other as required

Mounting

Vertical (bottom entry) & Horizontal (back entry) with adjustable union for Rigid stem type.
Panel (surface) wit bottom entry & flush panel back entry with adjustable union for Distance (capilary) type.

Ranges ( °C )

-38+50, 50, 100, 120, 150, 200, 250, 300, 400, 500 &
600 °C ( any Range within above ranges)

Accessories

Anivibration spring, Single & Double Electric contact. Thermowell's , Max Reading Pointers Etc.
Contact Us
GF-23, Windsor Plaza, R.C. Dutt Road, Alkapuri, Vadodara, Gujarat, 390007, India
Phone :+918035063524